Help Your Child (and You) Start the School Year Well
So, you've purchased (or soon will be) new uniforms, school shoes, lunchboxes and books. You're organising the last few playdates, activities and family outings. Your family is soaking up the last few days of backyard cricket, trips to the beach, barbeques with friends, staying in pajamas until noon and movie marathons. With school just around the corner, (we know, where did the summer go?) thoughts are shifting from boating to book covering and from tennis to timetables. Looking for some ideas to help you and your children transition back to school well? Here are some helpful strategies to prepare your family for the new school year.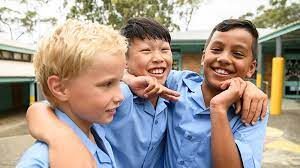 1. Begin to reestablish a school routine. 
Yes it's the dreaded "R" word. As boring and unsummer-like as it sounds, routine can be you and your child's best friend. Routines provide predictability, stability and clear expectations for the days ahead. 
For many families, Summer is a great time to relax bedtimes, food choices and organised activities. Staying up to watch Big Bash cricket, stopping for sweet treats and spending hours of unstructured time reading, swimming, shopping, baking, sleeping in and bushwalking are the hallmarks of the summer break. As we creep toward the first day of school, reintroducing bedtime schedules, meal times, structured play and set screen time can be an important cue, signalling the transition to the more structured and accountable time that school brings. 
2. Talk with your child about the year ahead.
With the uncertainty of COVID, it may be tempting to lead off with thoughts or worries you may have but let your child direct the discussion. The conversation can start as simply as, "What are you thinking about school this year?". Avoid leading questions if you can. You may be feeling overwhelmed with the idea of her wearing masks but she may feel like a superhero wearing one. Or you may be concerned about your child's teacher, but he may have heard from his friend's brother that she is great at teaching algebra.
What are everyone's expectations? Ask your child what they are hoping to accomplish this year. Let them know what your hopes for them are as well. Then support them in setting goals. Remember to keep them S.M.A.R.T.: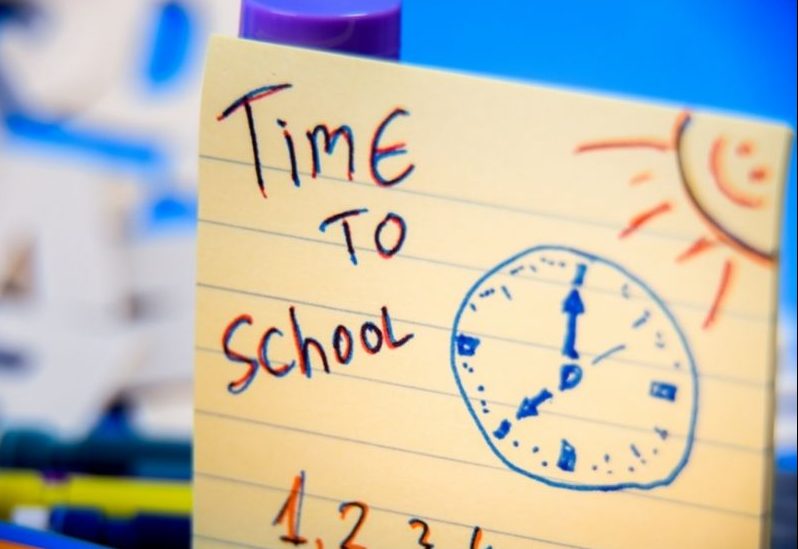 Help them to decide what part of the goal they can take responsibility for and what part they need support with. For younger children, reading books about starting school can be a great way to talk about their feelings around what school might be like.  
Having a neutral space to start from allows the conversation to unfold more organically. It also offers cues to your child that they can find a helpful listener in you when things feel more stressful as the year unfolds.
3. Work together to get organised but be gracious when things don't go to plan.
As the first day gets closer, involve your children in the preparations. Organise and lay out uniforms, decide what lunch will be and set a morning schedule. Then talk with one another about what role each member of the family will take in making the morning go smoothly. You might decide to make lunches the night before as a family, with each member picking a component to choose and prepare. Help your child pack their schoolbag, choose their pens and pencils and set their morning routine.
Allow for the unexpected. Knowing that there may be a few nerves (and perhaps some spilled milk) on the first morning, allow for extra time and patience. And as much as you would like to get that perfect Instagram photo of their first day, lean into the beauty of an imperfect hair bow, a cheeky smile or a scuff mark or two on their new shoes. This will help to reinforce the unconditional love and acceptance that your child needs most (particularly on first days).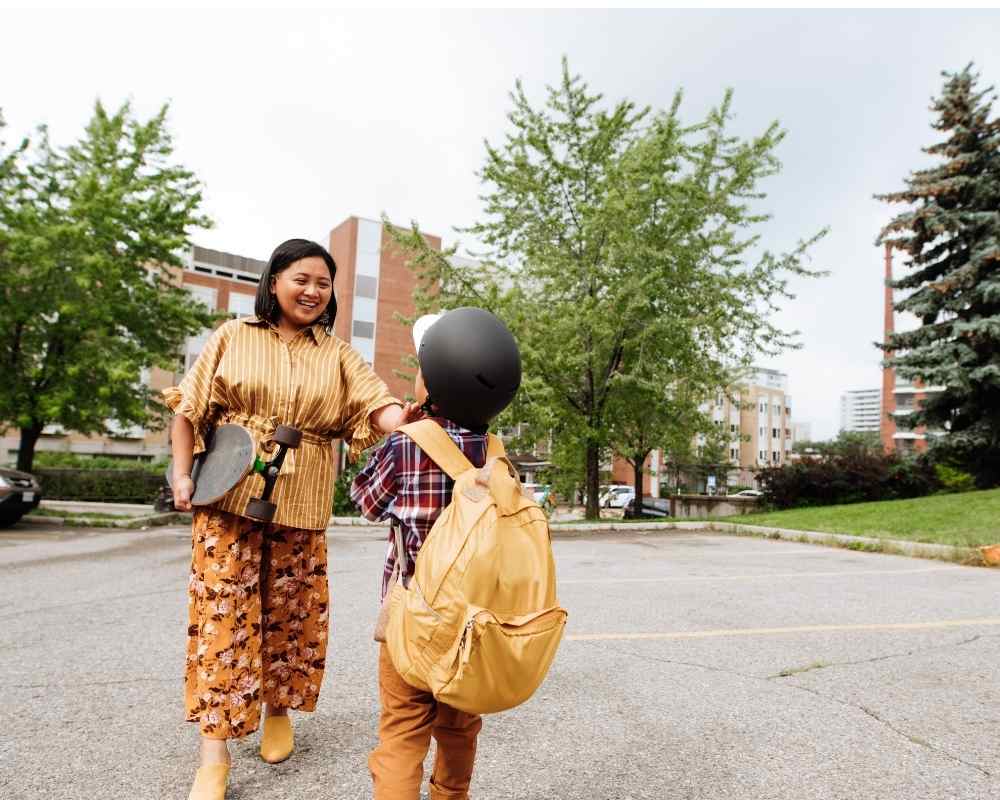 4. Have Fun! 
Yes, the beginning of the school year means the end of lazy days, summer holidays and staying up late but it also means seeing good friends every day, going on school adventures, attempting cool experiments in science and even a new start if last year was a bit wobbly. 
It's tempting to want to focus on the negatives of school but as parents, we can play a big part in shaping our kids' positive attitudes toward it. Share silly stories of adventures you got up to at school, talk to them about a time when you felt proud of something you accomplished there or pull out an old photo and show your child how goofy your hair used to look. If you find it hard to think of anything positive about your school experience, remind yourself that the challenges you may have faced at school helped you to develop skills that you still use today. 
Then celebrate! Have a special breakfast or dinner to talk about the new school year. Talk about your highs, lows and buffalos whoas, bros or heroes (these are silly, random things that happened or people that helped you throughout your day). Enjoy this time with your child and celebrate the new learning and experiences that school brings. 
If you have any questions or find that your child is having a particularly difficult time adjusting to school, please get in touch with us at 03.6224.8555. 
Have a wonderful and safe 2022 school year!
Here are some wonderful books to help prepare your child for their first days of school:

Starting School by Jane Godwin and Anna Walker.

I Am Too Absolutely Small for School by Lauren Child.

My First Day at School by Meredith Costain.

Jessica's Box by Peter Carnavas.

First Day by Andrew Daddo.

The Kissing Hand by Audrey Penn.

Kindergarten Countdown by Anna Jane Hays.

Wombat Goes to School by Jackie French and Bruce Whatley

Splat the Cat by Rob Scotton

The Night Before Preschool by Natasha Wing

Look, There's a Hippopotamus in the Playground Eating Cake by Hazel Edwards